MILS Signs an MoU with Feed The Future Burma Agriculture and Food Systems Development Activity
Yangon, December 23, 2020:
​
Download Press Release in Myanmar/ English
Myanmar Innovative Life Sciences (MILS) announced today that it will be initiating a project named "The Feed the Future Burma Agriculture and Food Systems Development Activity and Myanmar Innovative Life Sciences (MILS) Partnership" with the generous support of the American people.
The project will focus on Food System Quality Infrastructure (FSQI) and is the very first collaborative action between a private sector company and an international development agency aimed to technologically intervene the agri-food value chains for improvement of food safety and quality of Myanmar agriculture and food systems in order to strengthen the market linkages.
Together, the partners will invest nearly US$ 600,000 in the project within the next 3 years to achieve the project objectives. Additionally, Feed the Future Burma Agriculture and Food Systems Development Activity provides technical assistance for ISO17025 accreditation process for their central laboratory. The Partnership will Increased testing capabilities and capacity of the central food testing laboratory in Yangon, accredit the central laboratory with ISO/IEC 17025 certification, and extend its technical services in Mandalay, Shan, Magway and Sagaing Divisions to serve closer to food processors and farmers in these regions.
MILS AT INVEST MYANMAR SUMMIT 2019
MILS was one of the exhibitors from the Private Sector at the inaugural Invest Myanmar Summit 2019. Organized by UMFCCI, Myanmar Investment Commission and DICA, the Summit was a collaboration between the Union Government of Myanmar and the business community to create a platform for businesses to meet. The two-day event is designed to provide international and local investors the opportunity to discover the investment potential of Myanmar. It is a platform where Regional Government officials will also showcase business potential in their own States.
MILS ON MYANMAR NATIONAL TV
Being the very first bottom-up veterinary manufacturer in Myanmar, MILS has attracted the attention of stakeholders in livestock industry and featured in ALFC Channel (Agricultural, Livestock and Forestry Channel) for several times since 2012. After the first product launch seminar in Yangon in 2013, Myanmar Radio and Television (MRTV), Myanmar National TV, came down to MILS production plant in Hlaing Thar Yar Industrial District to witness the official visit of Deputy Minister of Ministry of Livestock, Fisheries and Rural Development as well as to interview the officials of MILS.
MILS AT HUNGARY-MYANMAR BUSINESS FORUM 2015
In order to tighten up the economic relationship between Hungary and Myanmar, a delegation led by consulate of Hungary, Myanmar attended the Hungary-Myanmar Business Forum in Budapest. One of the advisors of MILS, Dr. Kyi Lwin has attended the forum representing MILS meeting with several potential business partners in livestock as well as pet care industry in Hungary and Germany.
MICROBIOLOGICS DISTRIBUTOR SUMMIT, DANANG
Biennial Distributor Summit of Minnesota based ATCC licensed derivative quality control strains supplier, MICROBIOLOGICS was held at beautiful Furama beach resort in Danang, Vietnam in March, 2014. Kyaw Thu Htet, CEO of MILS attended the summit and discussed about potential business relationship between MILS and MICROBIOLOGICS.
INTERVIEW BY OXFORD BUSINESS GROUP
In March 2015, a team led by Stephanie Harl, Country Director of Oxford Business Group, a leading global publisher of annual investment, economic and business intelligence report, met Kyaw Thu Htet, CEO of Myanmar Innovative Life Sciences for an exclusive interview on business environment in Myanmar.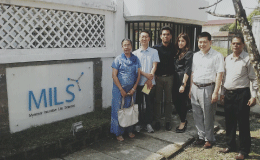 KITECH TECHNICAL AID PROGRAM FOR MILS
Korea Institute of Technology (KITECH), a major Korean R&D institute contributing in growth of manufacturing industry through development, application & commercialisation of manufacturing technologies and supports for SMEs, selected MILS along with seven other companies in Myanmar to give technical aid in product development, A team of microbiologists lead by Jaehoon Cho, spent a period of two days in MILS's quality control laboratory and production rooms to assist MILS's in-house QC and production team in improvement of quality control methodologies and production flow.
PROBIO-P LAUNCH SEMINAR IN YANGON
After going through the laboratory and pilot scale product development phrase as well as a placebo-controlled in-house clinical trial and more than 7 field trials at commercial broiler farms around the country, PROBIO-P, a flagship poultry probiotic from MILS was successfully launched in Nyaung-Hna-Pin Livestock Zone (1), Hmawbi township, Yangon on 16th February 2014. Vice Dean of Yezin University of Veterinary Science, Prof. Dr. Ye Htut Aung gave an honourable opening speech on the global impact of development of antibiotic resistance. Dr. Hla Hla Thein, Vice Chairman of Myanmar Livestock Federation and Chairman of Myanmar Broiler Association, gave a speech on the beneficial characteristics of probiotics in livestock industry proceeded by a product introduction speech from Kyaw Thu Htet, CEO of Myanmar Innovative Life Sciences. About 50 commercial broiler and farm owners attended the seminar which was broadcasted live on SKY NET's Agriculture, Livestock and Forestry Channel (ALFC).
PROBIO-P PRODUCT LAUNCH SEMINAR IN TAUNG GYI
The third product launch seminar of PROBIO-P was held in Shan Yoe Ma Livestock Zone in Aye Thar Yar, Taung Gyi, Shan State on 27th May 2014. Dr. Kyi Lwin, Secretary of (Northern) Shan State Livestock Federation opened the ceremony with a welcoming speech on Improvement of Livestock Industry in Shan State. Keynote speech was addressed by Chairman of Shan State Livestock Federation and the product introduction talk was delivered by Kyaw Thu Htet, CEO of Myanmar Innovative Life Sciences to about 30 commercial broiler and layer farm owners in Shan state.
Please reload
MILS at Hungary-Myanmar Business Forum
Dr. Kyi Lwin reprsenting MILS at Hungary-Myanmar Business Forum
MILS at Hungary-Myanmar Business Forum
Microbiologics Distributor Summit 2014 in Danang, Vietnam
Our CEO, Kyaw Thu Htet during MRTV's visit to MILS
Our CEO, Kyaw Thu Htet with KITECH team and our advisor, Dr. Hla Hla Thein outside MILS Compound
KITECH team in MILS Microbiology Laboratory
KITECH Technical Aid Program
Our CEO, Kyaw Thu Htet with Stephanie Harl and Associate from Oxford Business Group
Dr. Daw Hla Hla Thein giving speech at PROBIO-P Product Launch in Yangon
1/1